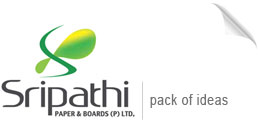 Water conservation:
As the new logo of our company suggest, we are committed towards environment as well as effective and wise use of resources like water/ wood pulp, which are insufficient. One of the main units of our company, that is based Sivakasi, Tamil Nadu was honored in 2010 as "Water Efficient Unit" by the Confederation of Indian Industries (CII) at the National Water Management Award for wisely using water for production purposes.

To reduce the usage as well as wastage of water, company's unit is installed with latest technology machines and tools. Not just limited to this, but also the unit is first of its kind to have developed a green belt, i.e., plantation of more than 10,000 trees around the factory premises. Also, the company has effectively reduced the amount of waste water discharge to 50% (as compared with 2007). The unit at Sivakasi is installed with hi-end systems, so as to save rain water and further use it for industrial purpose.

Bio-Energy:
To cater to the requirement and demand of power at the Sivakasi Unit, we have recently commissioned a 6 MW Bio Mass based co-generation power plant. The steam and total power requirement of the plant also meet with this. Apart from this, the company is also installed with ESP (Electrostatic Smoke Purifiers) that reduces emissions.

Windmills:
The company possess 2 windmills of combined capacity 1.450 KW. The power that is produced from these windmills is supplied to the State grid, one is placed in Tirunelveli, whereas the other Palladam Taluk (both in Tamilnadu).

Waste Paper:
Our 100% raw material requirement is met with Waste Paper. The company do its bit in the environment cause and play a crucial role in paper recycling process. The major advantage of recycling waste paper is not only concerned with the amount of trees that are saved but also with reduction in water consumption. Also, the recycled paper consumes 55% less water than the new one.